Fundraising campaign BICYCLE CINEMA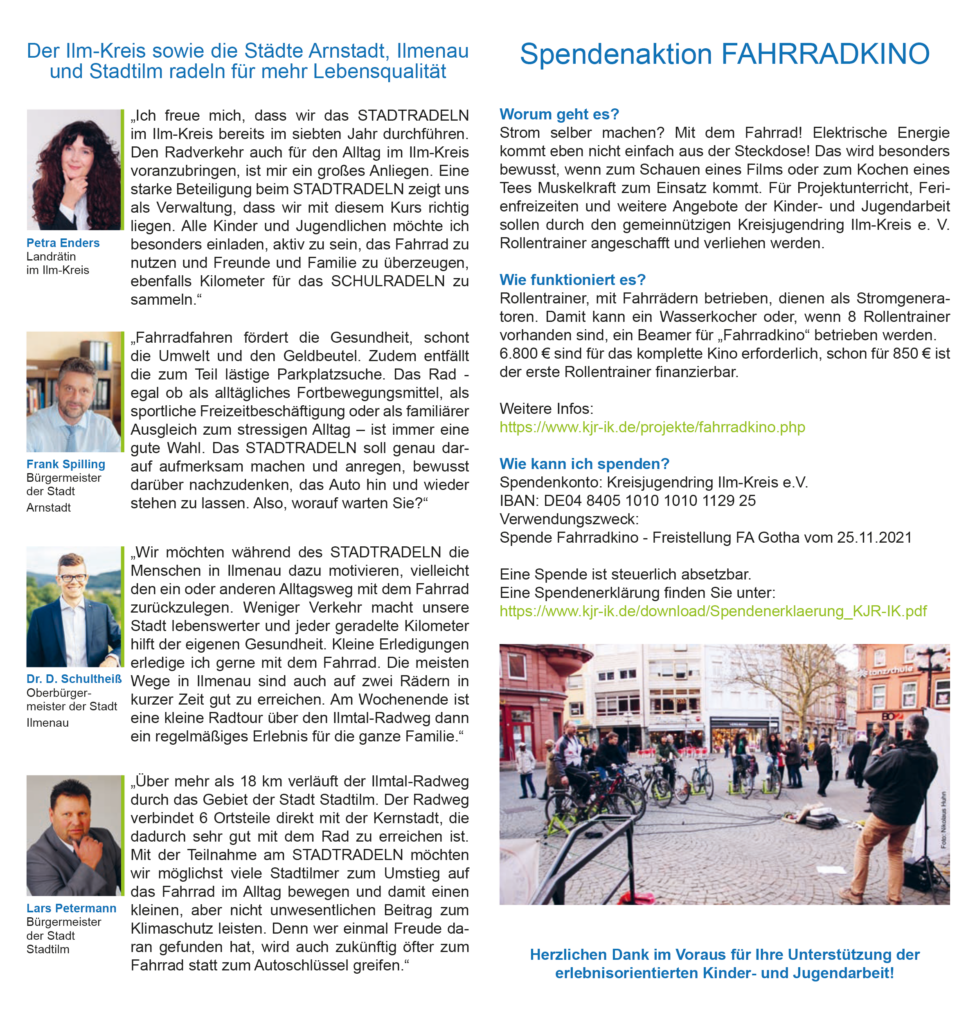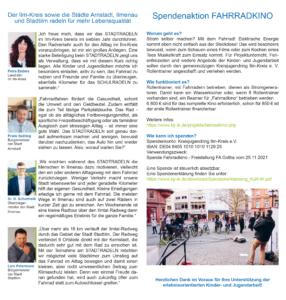 Why is?
make your own electricity? By bicycle! Electrical energy doesn't just come out of the socket! This is particularly noticeable when muscle power is used to watch a film or to brew tea. The non-profit Kreisjugendring Ilm-Kreis e. V. Roller trainers can be purchased and lent.
How does it work?
Roller trainers operated by bicycles serve as power generators. This can be used to operate a kettle or, if 8 roller trainers are available, a beamer for "bicycle cinema".
€6,800 is required for the entire cinema, and the first roller trainer can be financed for as little as €850.
How can I donate?
Donation account: Kreisjugendring Ilm-Kreis eV
IBAN: DE04 8405 1010 1010 1129 25
Purpose of use:
Donation bicycle cinema
A donation is tax deductible.
You can find a donation declaration here .
INFORMATION about CITY CYCLING
The city of Ilmenau in the Ilm district will take part in CITY CYCLING from May 1st to May 21st, 2022 . Anyone who lives, works, belongs to a club or attends school or college in the city of Ilmenau in the Ilm district can take part in CITY CYCLING.
Events
Sat, 04/30/2022
Bicycle cinema: generate your own electricity. Fellow cyclists wanted! 6 p.m. short films, 7:30 p.m. Greece bike tour lecture, "Kleinod", Karl-Zink-Str. 6, Ilmenau
Sun, 01.05.2022
Bicycle festival, Marktplatz Stadtilm, 10 a.m. to 12:30 p.m
Sun, 01.05.2022
Cargo and special bike meeting, Marktplatz Stadtilm, 10:30 a.m
Sun, 01.05.2022
Puppeteer Falk Ulke shows "bicycle theater" for young and old, 11 a.m., Marktplatz Stadtilm
Sun, 01.05.2022
Cycle tours to Stadtilm and then to Kranichfeld: Starting point 9 a.m. Parking lot "An der Schlossmauer" Ilmenau