Reading with Bija Moini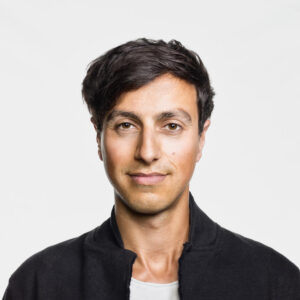 Bijan Moini, born near Karlsruhe in 1984, is a lawyer, political scientist and civil rights activist with German-Iranian roots. After completing his doctorate and legal clerkship in Hong Kong and Berlin, he worked as a lawyer for a commercial law firm. When the idea for his novel came to him, he quit and devoted himself to writing. In 2019, 'The Cube' was published by Atrium Publishing. Today, he works for the Society for Civil Liberties and appears on television, radio, and in numerous print and online media as an expert on civil liberties. Moini lives with his family in Berlin.
"


The cube


"
Our reality is being shaped more and more by artificial intelligence. This brilliant novel tells in a gripping way where this development will lead us: to a carefree life ruled over by the perfect algorithm called "The Cube". The near future. Germany is controlled by a perfect algorithm: The "Cube" enables people to live a carefree life, pays everyone a basic income, and nips crime in the bud. To do this, it collects even the most intimate data about the population. Predictability has become the highest good. One of the few rebels against this system is 28-year-old Taso. With great effort, he evades total detection, deceiving the dice about his preferences and thoughts by making his decisions with the help of playing dice and a coin. He is a "juggler," lonely but content. But then he receives a visit from a young woman: Dalia has escaped from a backward sect and wants nothing more than to live in the beautiful world of the cube. Taso falls in love with her just as the resistance is about to recruit him. Suddenly he is faced with an impossible decision: Does he betray his ideals – or an ideal world?
Awarded the Seraph 2020 for Best Debut
"Exciting, imaginative, and makes the reader think." WDR 5 Books
"This novel is discussion material. Captivating!" Courier
"A very readable novel." SRF 2 Culture