Reading with Anja Bagus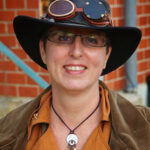 Anya Bagus
born in Baden Württemberg, grew up in the Kaiserstuhl, married in the amazingly green Ruhr area, one child, two cats, one dog. Health Practitioner and Author.
Anja Bagus reads from her novel "Aetherhertz"
The Ætherworld is the parallel world created in her books. Instead of coal, the innovations of the worlds are powered by aether, a mysterious green substance. But has "mysteriousness" ever stopped humanity from using something as powerful as the Aether is? No! So enter the beautiful city of Baden-Baden in Germany 1910 and discover how Æther changed the world.